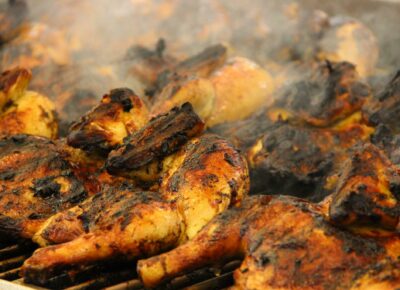 When planning our Chef's Market, we knew that this popular choice was an essential item to include. With the freshest ingredients and a unique grilling process, our Fire Grilled Chicken is crisp and flavorful on the outside, but juicy on the inside.
The process of creating our amazing Fire Grilled Chicken starts with fresh chicken butterflied on the grill over an open fire, where it is roasted until perfection. It's marinated in a tasty jerk seasoning, giving it excellent flavor while keeping it moist and delicious.
We also offer our Fire Grilled Chicken with a Curry or Bar-B-Que seasoning. Either of our flavorful recipes will keep you coming back for more!
Menu
Fresh Fire Grilled Chicken: Whole: $6.99
Fresh Fire Grilled Chicken Half: $4.99
Half Chicken Combo: $7.99 (Half Chicken and two 8oz. sides)
Whole Chicken Combo: $9.99 (One whole chicken and two 16 oz. sides)
Family Combo: $16.99 (Two whole chickens and two 32 oz. sides)
Sides: Macaroni & Cheese, Sauteed String Beans, Sweet Potato Mash and Cornbread. (other vegetables may be available based on store and season)
---