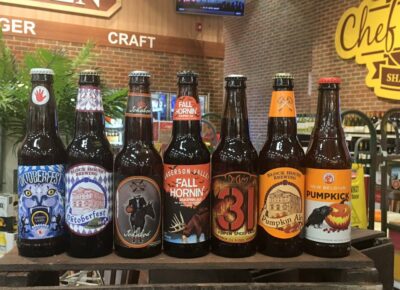 With any great Chef's Market goes the perfect pairing of an adult beverage. Find yours in the Brown's Beer Garden and Wine Cellar, where we offer hundreds of beer and wine choices for every palate!
We feature all types of specialty beers including Stouts, IPAs, and even local craft favorites. Can't choose just one? You can mix and match to get four different craft beers in a Mix 'Em Up carrier for some sampling fun. We are constantly stocking our Beer Garden and Wine Cellar with new and seasonal offerings! Try a new brew, relax with an old favorite, or take home a six-pack for the game.
Our wine selection also covers a complete range of offerings, including all types of wine from a variety of regions. We carry hundreds of wines from around the world, and some of our stores include premium wine offerings.
We offer Beer + Wine in most Brown's locations and we are even open on Sundays and most holidays!